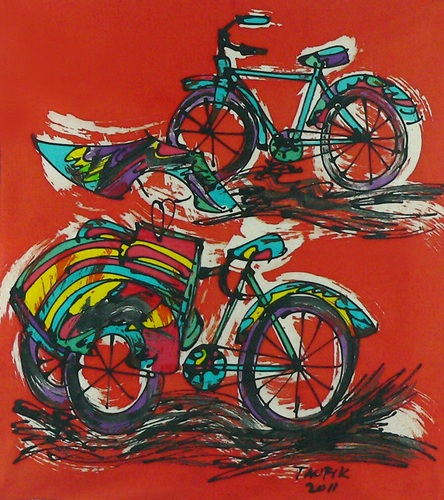 Rollover image to zoom

Title

Batik Art Painting, 'Bicycle and Rickshaw' by Taufik (30cm x 30cm)

---

---

Artist

Taufik

---

---

Size

30cm (W) x 30cm (H)

---

---

Style

Contemporary

---

---

Medium

Cotton

---

---

Description

This unique and exclusive batik painting on cotton is delicately hand drawn using the 'canting' and 'tulis' methods, whereby hot wax is flown decorously on the cotton cloth then vividly painted by the master artist of batik, Taufik.

Using the "canting" method and a colourful palette, the artisan certainly has made this batik painting an attractive one. Beautiful bicycles drawn on the naive batik piece with warm vivid colors

Each painting is personally signed by the artist and comes with a certificate of authenticity.

The frame is not included and it is used for illustration purposes only.