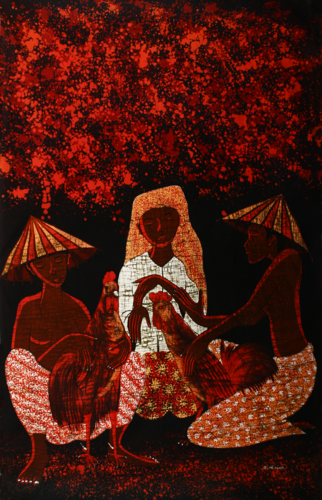 Rollover image to zoom

Title

Batik Art Painting, 'Cocks and People' by Mohsein (90cm x 150cm)

---

---

Artist

Mohsein

---

---

Size

90cm (W) x 150cm (H)

---

---

Style

Folk Art, Traditional

---

---

Medium

Cotton

---

---

Description

This unique and exclusive batik painting on cotton is delicately hand drawn using the 'canting' and 'tulis' methods, whereby hot wax is flown from the canting's tiny, downward-curving spouts straight onto the cotton cloth decorously then vividly painted by the master batik artist, Mohsein.

A sense of serenity reigns over the village people. Mohsein expresses his talent and imagination of rural communities through his work by picturing two healthy cocks and their keepers. He creates an idyllic setting for them using warm earth tones combined with black.

Each painting is personally signed by the artist and comes with a certificate of authenticity.

The frame is not included and it is used for illustration purposes only.