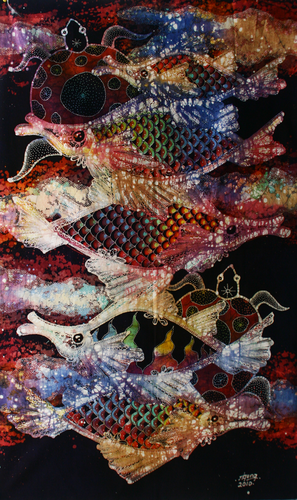 Rollover image to zoom

Title

Batik Art Painting, 'Fish and Longevity' by Agung (45cm x 75cm)

---

---

Artist

Agung

---

---

Size

45cm (W) x 75cm (H)

---

---

Style

Animal, Contemporary

---

---

Medium

Cotton

---

---

Description

This unique and exclusive batik painting on cotton is delicately hand drawn using the 'canting' and 'tulis' methods, whereby hot wax is flown decorously on the cotton cloth then vividly painted by the master batik artist, Agung.

Fascinated by marine life, the artisan depicts a picture of life underwater. The artisan seemed to have captured their movement through still waters. Shiny fishes are painted on a piece of cloth using various batik techniques. With a colorful palette and masterful batik technique, he shares their mystique and beauty.

The frame is not included and it is used for illustration purposes only.