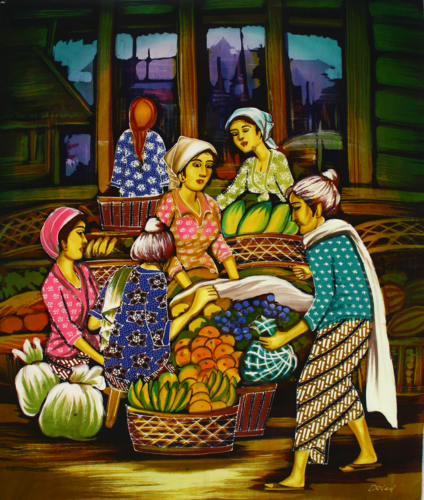 Rollover image to zoom

Title

Batik Art Painting, 'Market' by Dolah (75cm x 90cm)

---

---

Artist

Dolah

---

---

Size

75cm (W) x 90cm (H)

---

---

Style

Folk Art, Traditional

---

---

Medium

Cotton

---

---

Description

This unique and exclusive batik painting on cotton is delicately hand drawn using the 'canting' and 'tulis' methods, whereby hot wax is flown decorously on the cotton cloth then vividly painted by the master batik artist, Dolah.

Merchant women find a place and sit together to chat while they wait to offer their wares to passersby. This batik painting represents village life, the market tradition and its importance to people. This is where they buy our food, and where merchants obtain the money to support their families. Elegantly attired in soft traditional wear and stylish scarfs, the merchants create a feeling of prosperity. This batik painting will definitely be an enchantment to your home.

The frame is not included and it is used for illustration purposes only.