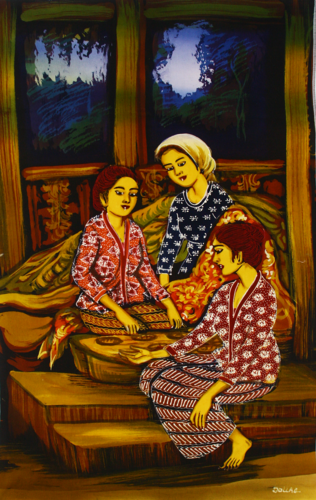 Rollover image to zoom

Title

Batik Art Painting, 'Playing Congkak' by Dolah (45cm x 75cm)

---

---

Artist

Dolah

---

---

Size

45cm (W) x 75cm (H)

---

---

Style

Folk Art, Traditional

---

---

Medium

Cotton

---

---

Description

This unique and exclusive batik painting on cotton is delicately hand drawn using the 'canting' and 'tulis' methods, whereby hot wax is flown decorously on the cotton cloth then vividly painted by the master batik artist, Dolah.

Seated in a verandah of a village home, three friends indulge themselves in a local game "congkak". It is a game of skill and strategy designed for two players, challenging mental agility and alertness. Painted with warm colours, this batik painting definitely depicts a piece on Malaysia through it.

The frame is not included and it is used for illustration purposes only.