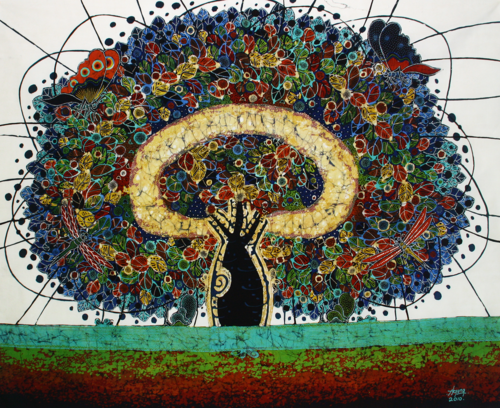 Rollover image to zoom

Title

Batik Art Painting, 'Tree of Life' by Agung (90cm x 75cm)

---

---

Artist

Agung

---

---

Size

90cm (W) x 75cm (H)

---

---

Style

Flora and Plant

---

---

Medium

Cotton

---

---

Description

This unique and exclusive batik painting on cotton is delicately hand drawn using the 'canting' and 'tulis' methods, whereby hot wax is flown decorously on the cotton cloth then vividly painted by the master batik artist, Agung.

All of nature exists in harmony, exemplified by the Trees of Life. Lured by sweet fragrance, a myriad of insects seek the nectar in a huge tree. The artisan portrays them in various colors of nature, achieving complex patterns. Airy and agreeable, the enchanting composition is created with various complex batik techniques and is painted with a colorful palette.

The frame is not included and it is used for illustration purposes only.